Act! By Sage Software Hosting
Act! by Sage Hosting solution by Sapience is the most affordable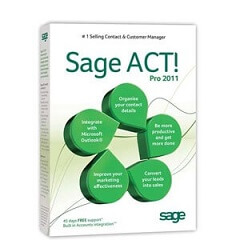 Do you have any plans to install the desktop,premium or any other edition of Act! By Sage software on your local machine then you must have the Act! CRM Software. Since, you must have to create individual login ids for every person to carry on email scheduling, event tracking and CRM management. This will not go in adherence even if you are using the centralized data base of Act! by Sage accounting software on your local system or machine.
Sapience saves you from the worries of installing Act! CRM software on your machine for using the features of Act! Software because it will offer dedicated terminal servers and the technical experts of Sapience will install the copy of software with the license. Besides, they will also help in setting up user access and other important configuration on your machine enabling you to choose any kind of customized solutions for Act! hosting. By Act! hosting deployment, you can easily get access to your Act! software from web interface and to assist this, Sapience experts will provide you with an IP or domain name for the concerned Act! web interface and then you can conveniently synchronize the centralized database from your local machine.
The various advantages accompanied while choosing Act! hosting services from Sapience includes the following:
Through Act! software deployment by Sapience, you can easily move your complete database to your dedicated terminal and it also helps in saving upfront IT infrastructure.
By gaining expertise in quickbooks hosting services, Sapience will provide affordable Act! hosting services to its clients at industry best price.
You can also get 24X7 tech support and service for Act! hosting service.
Moreover, Sapience hosts all the key add-ons of Act! software, which includes Acctivator,Companion Link Software, Address Grabber, Crystal Reports, SwiftPage, Northwoods Plugins,WorkTrack, List Grabber, Egrabber, CRM Addones etc.
Act! hosting deployment is completely integrated with all other actuality applications such as Peachtree, QuickBooks, quickbooks tutorial etc. Moreover, you can also use all Microsoft applications very efficiently on our hosting server. So, if you are looking for customized solutions for Act! hosting, then choose from Sapience to reduce burden on your pocket.