Support
Sapience provides 24x7 free support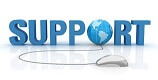 Our goal is to provide maximum service and support with minimum issues so that we can make sure that our clients get the best out of the best.

We can control your system with LIVE REMOTE ASSISTANCE with your permissions to resolve your issues quickly, which is the best way. For this, you need to download the software depending upon your operating system and run on your computer to get an ID which you have to tell the support representative.

Sapience Cloud supports all kind of software's that can be hosted on windows terminal servers specializing in accounting and tax applications along with Microsoft applications. Our dedicated support is available 24x7 for technical assistance through Email/Chat/Phone and Remote Support.

However if you are unable to connect to our intuit support experts for some reasons, you can check our KNOWLEDGE BASE section.